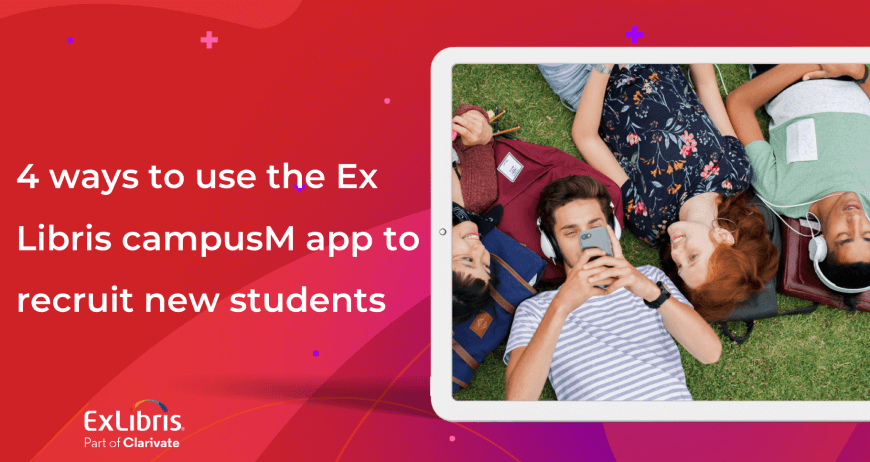 By Hadas Tayeb
In August 2021, the Harvard Business Review published an article titled, "You don't need a college degree to land a great job." In the article, the author Jeff Mazur notes that leading companies are doing away with the requirement for college degrees for employees.
Alongside a shift in employee educational prerequisites, universities are contending with changing student attitudes toward higher education. For example, one 2022 survey conducted by the non-profit ECMC Group showed that many teens are interested in fast-tracking their education. Nearly half of the 5,000 teens surveyed believed 3 years of post-secondary education or less would be enough to help them succeed in the workforce.
Within this new landscape of employer and prospect expectations, higher education institutions are being tasked with demonstrating ROI from the first point of contact with prospective students. The campusM app can help them do that.
Build digital relationships with prospects from day one with Quick Polls
Consumers expect personalized experiences in their interactions with brands. Universities can similarly target prospects with messaging and degree paths tailored to their wants and needs – but only if they have access to this information.
Quick Polls– single-question surveys sent through the app — can help institutions determine the success of marketing tactics and create more personalized experiences for potential students. For example, a Quick Poll published in the app could ask:
Thanks for attending our online event, "The Future of Nursing Careers." How would you like to receive more information about our university's nursing tracks and internships?
Answers could include the following:
By email
By push notification
By a phone call with a nursing school advisor
Other:______________
Low response may indicate that the event missed the mark. High response tells the university that the event worked and enables tailoring of follow up interactions. Using Quick Polls, universities can segment prospects according to their messaging preferences and deliver information about academic programs in a way they choose.
Wondering how to get prospects to download the app in the first place? Read our blog post, "7 Tips to Increase your Campus App Downloads."
Support virtual and on-premise open days with event discovery
Open days, both on premise and virtual, have the potential to show prospective students clear paths from their degrees to employment as well as give them a taste of the university experience.
Universities can use the campusM "Events" feature to make it simple for prospects to discover, favorite and register for events that speak to their interests and professional goals.
With this registration data in hand, recruiters can make smarter decisions about what brochures to send to prospects, about which departments should be contacting these prospects and even which student ambassadors to match them with.
Direct applicant engagement and marketing using notifications, banners, and feeds
While institutions are still successfully using email to communicate with existing students, prospects don't have an institutional email so college marketing emails may end up in their spam folder. Additionally, for many Gen Z prospects, app messaging and social channels may be their preferred method of communication.
Engaging with prospects consistently through the app with dynamic content can keep institutions top of mind and demonstrate for students the rich experience they offer. For instance, campusM admins can use:
Just-in-time notifications to alert specific cohorts of prospects of upcoming events that match their academic or professional interests
Carousel banners that grab the eye and promote the benefits of residential life or work-study opportunities on campus
RSS feeds from social platforms like Twitter or Instagram to give prospects real-time insight into extra-curricular activities or support services that make a university's offering unique
Guide students through the application process from start to finish
Even for students that want to pursue a traditional college or university education, the application process can be confusing and discouraging.
Clarifying the application process from start to finish with an in-app checklist puts all of the information students need to successfully file an application in one place. Admins can add links to useful resources or admission advisors at each stage of the application checklist so that prospects don't get overwhelmed and can complete their applications on time.
campusM is a powerful campus app that helps universities improve user engagement daily. For more information about how campus apps are reshaping the Student Experience, download our whitepaper: UX for the Digital Campus: How to Design for Meaningful Student Experiences. To download, click here.