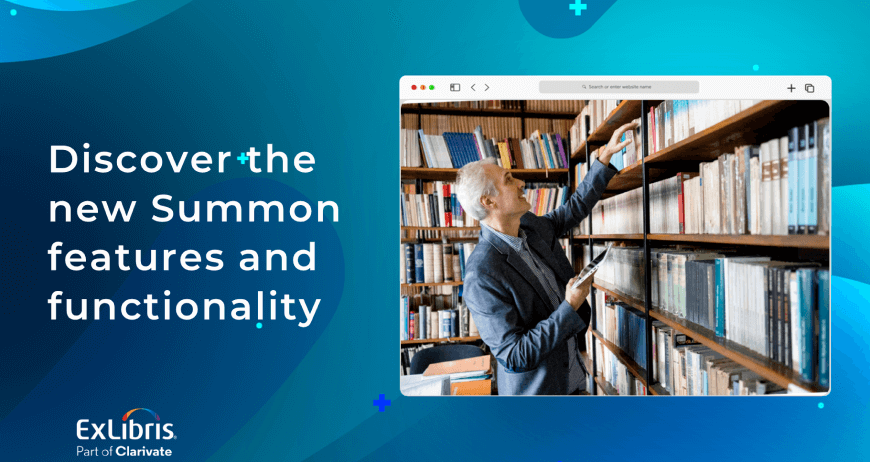 By Brent Cook, Director of Product Management
Over the last several years, Ex Libris, now part of Clarivate, has enriched Summon for the benefit of libraries and their users. Since 2015, Summon has remained a pillar of resource discovery developed in parallel alongside Primo, Ex Libris's other flagship discovery service. Like Primo, Summon customers have benefitted from a more robust central index, enhanced analytics, improvements to the user experience, increased integrations and interoperability, tighter integration with library systems, and more.
Perhaps the most significant Summon enhancements made available to customers in recent years were rolled out this past month. The new Summon features and functionality deliver immediate value to customers, with many originating from customer participation through the Idea Exchange and the New Enhancement Request System (NERS) voting process. They also come at a time when we are witnessing a surge of interest in and adoption of Summon, as libraries look at it as an easy-to-use and powerful discovery solution that can address their library and institutional needs.
Below are some brief highlights about the top three developments to Summon made available to customers this month. Information about them, along with all Summon release information, can be viewed through the publicly accessible Summon Release Notes in the Ex Libris Knowledge Center.
New Summon Experience – A Refreshed UI with Optimized Usability
There have been consistent improvements made to the Summon user interface since its 2009 launch, with more significant updates being made in 2013 and incremental updates from 2016 through 2020. Today, libraries and their users are benefiting from a refreshed user interface with optimized usability improvements.
Patrons that are using Summon in libraries worldwide are now seeing updates to stylistic elements and their placement, along with a more effective and efficient facet design, a better organized brief result, and improved accessibility. These developments were the outcome of examining feedback, extensive analysis, and user testing to identify key areas for improvements – particularly around ensuring seamless usability throughout the Summon results page, organization of information, and access to both physical and electronic content.
You can learn more about this significant milestone for Summon through a quick introductory video or information presented in a recent webinar, "The New Summon Experience – A Refreshed UI with Optimized Usability," that you can view as a YouTube video, WebEx recording, or PDF file.
Enhanced Integration of Sierra via Summon
A tight integration between a library's discovery service and management system that provides a seamless experience is what both libraries and their users want. It's with this understanding that, over a year ago, Innovative Interfaces and Ex Libris came together to develop a stronger solution for libraries using both Sierra and Summon, working with several different libraries who served as development partners.
The result of this collaboration is the release of the enhanced integration of Sierra via Summon. Through this unified discovery and management experience libraries can receive immediate value by providing a single interface for patrons to use to search across library resources and perform their OPAC actions within Summon. Patrons can log into their accounts, view availability and perform requests, and view their library account information (e.g. loans, requests, messages, fines and fees), from the Summon results page.
Getting started information, such as system requirements and activation steps, is posted for joint customers in a Sierra via Summon Knowledge Center article. A brief highlights video is also available.
Quicklinks
This new Ex Libris feature, as highlighted in a recent blog post by Christine Stohn (Director of Product Management), addresses the need to ensure convenience for users, not only with finding material but also with accessing it. Since linking to full text is a critical pathway for discovery, Ex Libris is striving to ensure that users experience the optimal linking experience while remaining focused on content neutrality and inclusiveness through a new feature Quicklinks.
Quicklinks provides users a simple one-click-to-full-text experience, directly to either the pdf or the HTML version, from the result list in Summon and Primo. Linking can be that easy, surpassing what's available through OpenURL-based linking and direct links from indexed data. Quicklinks takes user convenience and linking to a new level, while remaining content neutral and based on library choice.
Learn more about Quicklinks through this short video or by reviewing the Summon Quicklinks page in the Ex Libris Customer Knowledge Center.
Current Summon customers needing assistance with their implementation can always connect to us through our Support Portal. If you are a library or content provider wanting to learn more about Summon, or Quicklinks, simply contact us.