Scott Schuetze, Ex Libris
Discovery services provide valuable access to specified collections, extended services, and subject-matter experts and convey valuable information to library users. They are designed to deliver the user experience that's in the best interest of the library while also fulfilling user needs, going well beyond what's available through Google, Google Scholar, and databases.
The seamless integration of Yewno Discover with Ex Libris Primo discovery service represents an easy, new opportunity to leverage data intelligence and create additional exploration paths for library users. As a new customization option available through the Ex Libris Cloud Apps framework, the Yewno app further enables libraries to enhance information literacy and learning outcomes and to maximize the use of collections through serendipitous discovery in Primo.
It's easy to see how the Yewno app can increase users' confidence in the library to fulfill their research needs. A Yewno knowledge graph appears above the search results after conducting a search in Primo, allowing users to further investigate concepts related to their interests and to gain more knowledge.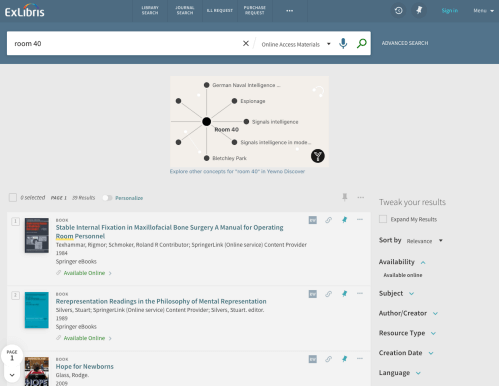 Libraries who wish to innovate and modernize their discovery experience with the Yewno app can find it on the Ex Libris Developers Network or through Primo Studio. You can also view a brief demo video that highlights how Ex Libris Cloud Apps are found and work within Alma.
Please contact us if you have questions about how you can deliver a more connected discovery service through Primo, the new Yewno app, or the Ex Libris Cloud App framework.