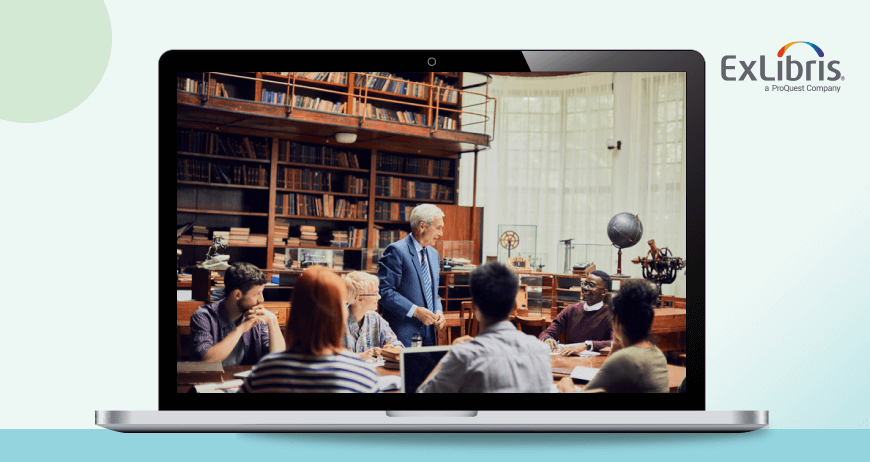 How the California State University San Marcos Library connects students and faculty with necessary resources, quickly and efficiently
What tools are available today to facilitate connections between libraries, faculty, and students and provide fast and easy remote access to resources?
This question was addressed in a recent ACRL Choice webinar sponsored by ProQuest and Ex Libris. The session, entitled Enhancing Digital Access to Course and Library Materials, featured a panel of librarians from the California State University San Marcos along with product specialists from Ex Libris.
The panel shared insights, information, and real-life examples showing how the Ex Libris RapidILL™ interlibrary loan system and Leganto® course resource list solution can help libraries simplify their workflows and better serve their users.
A revolutionary resource sharing system
During the webinar, CSU San Marcos' Borrowing Coordinator Natalya Magazino talked about how the RapidILL system has helped her library save staff time while ensuring better usage of library materials. Designed by librarians, for librarians, this dynamic, community-oriented interlibrary loan and resource sharing solution enables the library to carry out quick, efficient transactions. Magazino finds that the system's automated processing of requests minimizes staff intervention and fulfills article and book chapter requests within hours.
Magazino noted some of the RapidILL benefits:
Seamless integration with existing library workflows
Effective usage of library collections
Flexible request management options
An intuitive web interface that's ideal for remote work
An alternative to traditional course reserves
CSU San Marcos Library Service Specialist Kelly Ann Sam brought participants up to speed on how the Leganto solution streamlines access to course materials and helps reduce their cost to students by enabling libraries to leverage their collections, expertise, and services.
Using the Leganto solution, the faculty can easily build course resource lists consisting of all types of resources and share the lists with their students.
Sam also explained that the Leganto system
Integrates with the learning management system, making it easier for students to access required resources
Provides library analytics that help librarians understand students' use of reading lists and resources
Lowers student costs by leveraging library collections and open-access materials
The Leganto solution offers many unique services for libraries. For example, Leganto enables a library to provide scans of the first chapter of a required book so that students will have more time to acquire the full text.
How can you enhance digital access to library and course materials at your institution? Watch a recording of the webinar or view the slide presentation.
Learn more: Request a meeting with a RapidILL or Leganto expert.