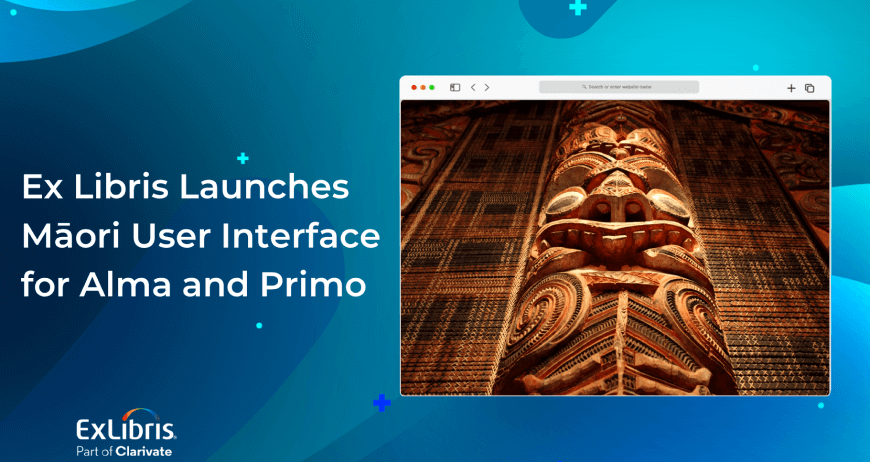 Library systems support the resurgence of a once-vanishing language
This blog post was originally published by ProQuest.
With a new Māori user interface for the Alma library management system and the Primo VE discovery system, Ex Libris, part of Clarivate, is helping libraries support the resurgence of te reo Māori, the language of the indigenous Māori people in New Zealand.
While Māori is spoken by less than five percent of New Zealand's population, it's considered an official language of the island nation and there is an increased focus on supporting its literacy as calls for Māori equity grow nationwide. The movement has spawned recognition of the important role indigenous language plays within the Māori culture and New Zealand's identity. Universities and polytechnic institutions are responding, with virtually every institution offering language classes, including full immersion courses. With a governmental pledge for 20 percent of the population to speak Māori by 2040, class enrollments are skyrocketing.
Enabling librarians, students and faculty to interact with key systems like discovery and library management in te reo Māori provides an opportunity for deeper engagement with the language across the institution.
Ex Libris took a careful approach for development of the Māori user interface for the Alma library management system and the Primo VE library discovery service to ensure cultural sensitivity and accuracy in the library context. The company teamed with a translation agency to engage local translators and native te reo Māori speakers, licensed by the Māori Language Commission. These highly respected translators had extensive experience, with accolades as leaders and change agents for developing and maintaining strong productive relationships to achieve positive Māori and indigenous outcomes.
Jacob Powell, Cultural Collections Team Leader, and Manuhiri Huatahi, Kaiārahi, both members of Te Tumu Herenga | Libraries and Learning Services at the Waipapa Taumata Rau | University of Auckland, then reviewed the translation for library context. Jacob and Manuhiri are also members of Te Tumu Herenga's Te Pou Rāhui Māori staff group and will continue to assist Ex Libris in ongoing reviews, ensuring future translations will maintain the same high quality.
"As a long-serving Māori professional in the library community, it is humbling to be involved in an initiative that is recognizing the importance of te reo Māori for reo speakers, learners and future generations," said Manuhiri Huatahi.
The Māori user interface for the Alma library management system and the Primo VE discovery system demonstrates Ex Libris' alignment with its customers' values of inclusion and its commitment to building a more sustainable and equitable world.
Read more about how ProQuest and Ex Libris, part of Clarivate, are helping libraries reflect the spectrum of voices, including indigenous voices, globally. If you would like more information on how to activate the Māori user interface, click here for configuration instructions in the Ex Libris Knowledge Center.