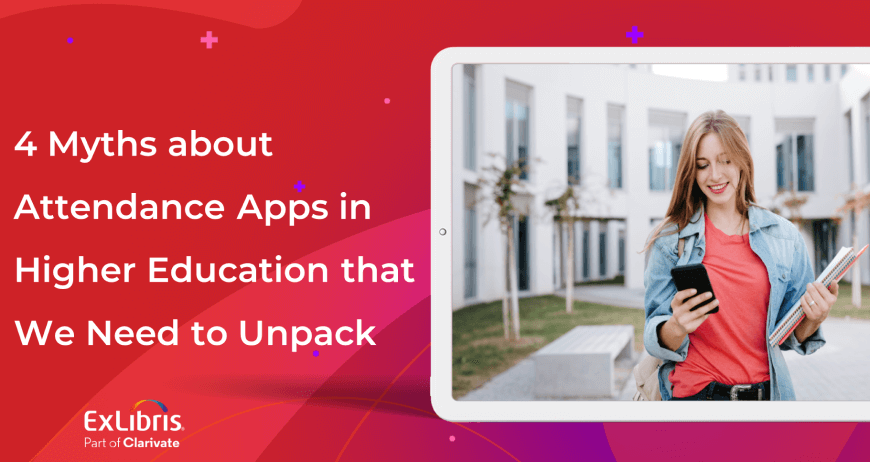 Attendance tracking apps can get a bad rap. Maybe it's the word "tracking," which has some negative connotations, or maybe recent high school graduates aren't particularly eager to step back into the familiar world of hand raising and roll call – even if it has been digitized.
However, attendance capture is valuable for students and their institutions:
Good attendance has been consistently linked to better learning outcomes for students
In some cases, such as extending a student visa, establishing fitness to practice or qualifying for financial aid, attendance is a mandatory prerequisite
Attendance data can be used to monitor student engagement throughout the year and signal when students may need academic or emotional support
For many universities, attendance apps represent the next logical evolution of manual attendance-taking. Shifting roll call to a digital self-check-in model both empowers students and frees up teaching time. Plus, consolidated attendance data is easier to manage and enables quicker action than reams of handwritten attendance records.
While a growing number of universities are adopting attendance apps, many remain hesitant.  Why? These four myths may be holding decision-makers back:
University students don't want their institution to track their every movement
True. Students value their digital privacy, and many are wary of how their data could be exploited within the ecosystem of platforms and apps that make up their institution's digital services. In a 2021 Future of Privacy Forum survey of 1500 college students in the United States, only 47% of students reported trusting the distanced learning platforms used by their universities to protect their data.
However, when an institution consistently demonstrates that it takes its students' data privacy seriously, students have less reason to oppose an attendance app. Further, how universities frame their student attendance apps will influence whether students embrace or shun these apps.
It's essential that students understand how the app will be used – that it will not be used to track if they stayed in bed, went to get a drink with friends or took an extra shift at work instead of going to class. Students need to be assured that the only data their university will capture is whether students checked into class or marked themselves as absent.
Universities can encourage both use of and trust in attendance apps by bringing students into the roll-out process via Student Unions or focus groups. Feedback from these groups can help identify ways to position the app's value to students. Introducing the app within the context of how it helps the student succeed can make adoption and use more likely.
App uptake will, to a certain extent, also be determined by how well-rounded the app is. If the students also get their class data, grades, communications and more from the same app, attendance capture becomes an embedded part of their experience and will be more widely embraced.
University students don't need babysitting
True, but they can benefit from more explicit guidance. Learning frameworks like Guided Pathways have findings that show when students are given consistent support throughout their academic journey, they're more likely to succeed in a timely manner.
Student attendance apps are no substitute for advisors, but they can nudge students towards better decisions about attending class. For example, attendance dashboards that visualize a student's attendance record can encourage students to attend class even when they're reticent, and push notifications can remind them that they have an upcoming class to attend. Once universities have armed students with this information, it is up to the students to decide to go to class.
At the same time, students appreciate having the ability to check themselves into classes, in both on-site and remote environments. As Rupert Frankum, the Digital Experience & Platforms manager at the University of Plymouth has shared: "The campusM Attendance feature has helped us empower our students … Students like to be in control of their check-ins and to get immediate feedback on their attendance."
Attendance data doesn't tell a meaningful story
False. Attendance data is a strong indicator of class engagement, but that story can be difficult to piece together when a student's attendance record is scattered between paper registers and disparate hardware card readers. When Attendance data collection is centralized it can be merged with other data points to create comprehensive engagement dashboards and reports.
Real-time attendance data enables real-time risk assessment and advisor action. Within the campusM Attendance app, attendance check-ins can be tied to in-app prompts. If a student's attendance drops, they can be targeted with a quick survey about their absences, an email or an advisor phone call to resolve the issues before they escalate.
Maintaining an attendance app isn't worth the work
False. Like any new system a university adopts, an attendance tracking app take some work to get off the ground and maintain. Still, the return on the cross-disciplinary efforts involved in running an attendance app can be substantial. By using attendance data to catch small problems before they become big problems, universities can reduce dropouts, improve wellbeing and empower students to succeed.
Fiona Greig, Director of Library & IT Services at the University of Winchester, where campusM has been in use since 2020, concurs. Providing accurate access to attendance data and engaging the student directly in the capture of said data has driven our students to be more engaged with their attendance. They want this number to be high; students are mindful of these metrics, especially in the pandemic as this was proof of being part of a community."
Want to learn more about how Attendance can promote student well-being and simplify compliance? Download the campusM Attendance case study here.