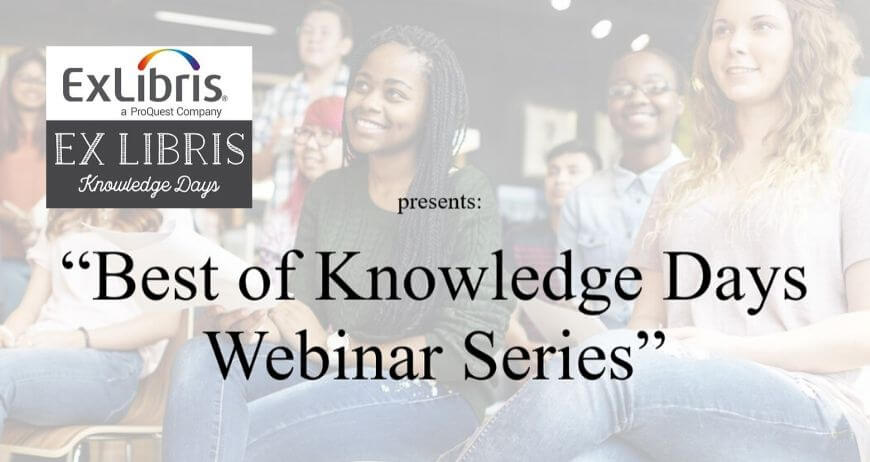 A message from Eric Hines, President of Ex Libris, North America
As you probably have heard, ELUNA (Ex Libris Users of North America) has canceled their annual user group meeting for 2020 due to the Coronavirus situation. Today, we are also announcing the cancellation of the Ex Libris Knowledge Days training event which precedes ELUNA.  While not easy, this is the right decision.  I want to thank the ELUNA steering committee and planning team for their support, insight and investment in this exceptional annual event, as well as all those who planned to present and attend.
Although we will not able be able to meet in person for the annual Ex Libris Knowledge Days hands-on training, our Global Delivery team is hosting a special ongoing virtual event.  I am excited to announce a new opportunity for all of Ex Libris' customers as we introduce the "Best of Knowledge Days Webinar Series."  We are taking the most popular courses from Knowledge Days and converting them to live digital classes – open to everyone in 2020.
Protecting our team and community: In the past, we would all come together to learn in a classroom, ask live questions, meet our peers and develop friendships. Since the safety of our team and our user community is paramount, we are leveraging all the digital tools at our disposal to support customer education and community building.  All of the "Best of Knowledge Days Webinar Series" sessions will be live with reserved time for questions and will be made available in a recorded format.
Ensuring the quality of our services: As a leader in cloud software, we are well positioned to continue supporting all of our solutions while the world "shelters in place". Our team has made the rapid transition to working remotely and I would like to highlight some of our recent efforts including the recently launched COVID-19 Product Best Practices Knowledge Center Articles and Webinars.
I would also like to introduce our Remote Learning and Research Assistance Initiatives which we launched this week to help our customers better support remote learning.
On a personal note, I hope that everyone stays healthy.   We are committed and confident in our ability support you while we all embrace new ways to work together.  During this time of uncertainty, I am investing time in getting to know the people around me better and frankly enjoying more time with my family.  Our team is hosting virtual lunches, occasional happy hours, and introducing pets and family members to each other.  The Ex Libris family is growing and we are enjoying meeting spouses, dogs, cats, and especially the children of our employees.
Stay safe and thank you for being our customers and being part of our Ex Libris family.
Sincerely,
Eric