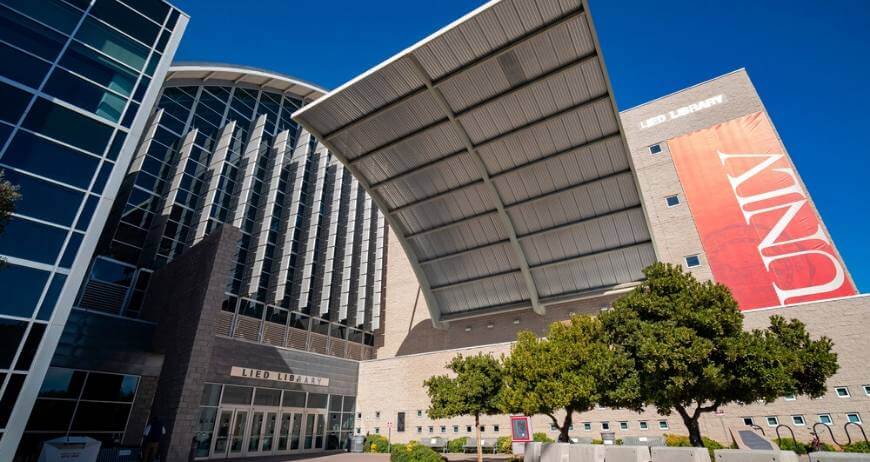 Dani Guzman, Ex Libris
Before Dr. Mary Croughan interviewed for the position of Vice President for Research and Economic Development at the University of Nevada, Las Vegas (UNLV), she scouted the campus and the surrounding neighborhoods to see if the environment would be a good fit for her.
What sold her on coming to UNLV was discovering that the library played a key role in the research process.
"When I walked into the library and saw they had research consultation rooms right on the first floor, that to me was concrete evidence the library was involved in supporting university research," she recalls.
Croughan joined UNLV around the same time as Maggie Farrell, Dean of University Libraries. Each has found a willing collaborator in the other — and this cross-department collaboration between the library and the research office has helped UNLV raise the profile of its faculty research while becoming an R1 institution in accelerated time.

It's all about relationship-building. Proactive communication and constant engagement are key.

Cross-department collaboration at UNLV
One area where UNLV librarians have been instrumental in collaborating with the research office is intellectual property support. As researchers have sought to license their intellectual property, librarians have leveraged their extensive expertise in copyright and licensing issues to guide the process.
Data management is another area where UNLV librarians have made significant contributions. Librarians have helped establish and maintain an institutional repository for faculty to deposit their research outputs. Working together, the library and research office have obtained complementary software and expertise to assist faculty, staff, and students with identifying the best funding sources, collaborators, and publication sites.
"Maggie had a template to help faculty understand the federal requirements regarding open access to research data," Croughan says. "Because the leadership and expertise in these areas is so closely shared between the library and research office, I don't know that someone could walk into a meeting and know which department each participant represents."
The library also plays a critical role in helping faculty increase the visibility of their research, such as by showing them how to make research outputs more discoverable and manage their reputation in a social media-driven world. This role will continue in a more formalized way when a new Faculty Research Excellence Program opens on campus soon.
The program will be a one-stop place for faculty to receive guidance and professional learning around the research process. It will be run out of the research office, but librarians will be involved in faculty development.
"When I articulated the idea for a Research Excellence Program, Maggie didn't bat an eye," Croughan says. "Instead, she said: 'That will be so great!'" The library division has been an "invaluable" partner in supporting the work of the research office, Croughan notes.
How to build a collaborative research culture
For Croughan, collaborating with the library was simply assumed.
"Before I joined UNLV, I had 30 years of experience with the University of California system, where there was a tight relationship between the library and other campus departments," she explains. "I have only ever known strong relationships with libraries, and so I came to UNLV with the assumption that I would be working closely with the library here as well."
She adds: "Maggie and I arrived at our first meeting together with a shared sense of collaboration, recognizing from our prior experiences that you can accomplish so much more when you work together."
At institutions where this isn't the case, librarians can foster a collaborative culture by understanding the needs of researchers and how they can support these needs, Farrell says — and by reaching out to research vice presidents and articulating their value to the research process.
"It's all about relationship-building," Farrell says. "Proactive communication and constant engagement are key."
Besides engaging with research vice presidents, librarians should also establish relationships with faculty. "Faculty are busy," Farrell says. "They'll come to us at their point of need in the research process. We need to be available to help them meet that need when it's expressed."
Building those relationships "takes a lot of time," she says, "but it's worth it. The biggest reward is that we're helping to achieve our institution's mission."
Farrell's goal is that faculty naturally see the library as a partner in solving problems and meeting their research needs. "I want faculty to be able to focus on their research and know they'll be supported," she says. "I want the library to be integral to the research process and faculty turn to librarians for their expertise to strengthen our university research."
Listen to the full interview with Mary Croughan and Maggie Farrell:
Dr. Mary Croughan is Vice President for Research and Economic Development and Maggie Farrell is Dean of University Libraries at the University of Nevada, Las Vegas (UNLV). They are members of the Ex Libris Research Management Advisory Council.
5月 4, 2020