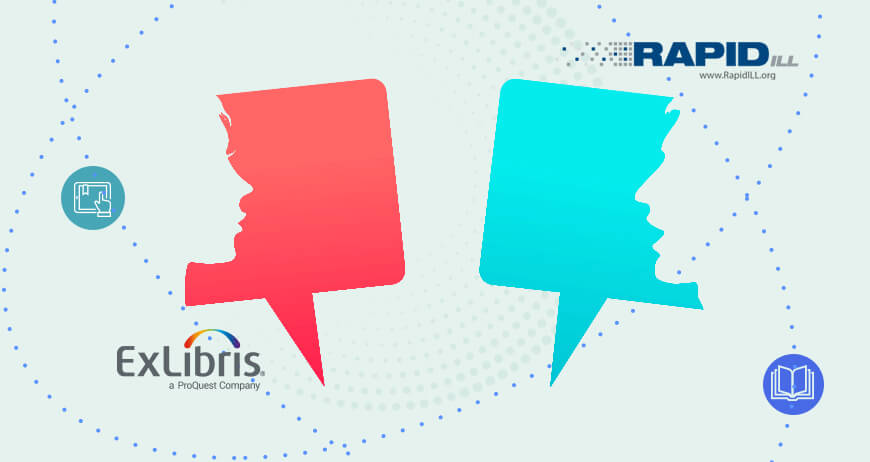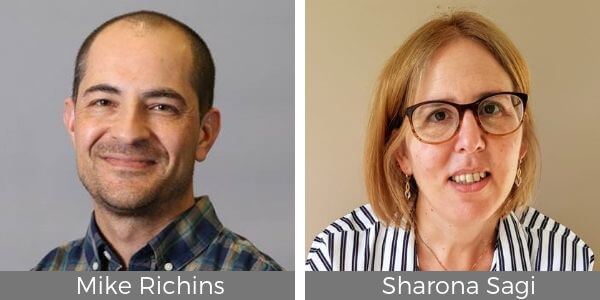 Mike Richins, Director of Product Management at RapidILL and Sharona Sagi, VP Resource Sharing Solutions at Ex Libris
Ex Libris is welcoming RapidILL into its family of solutions, adding one of the most practical and innovative resource sharing systems for what is expected to be a revolution in the field. To better understand what this joining of forces will mean for libraries, patrons, and customers, we sat down for a chat with Sharona Sagi, VP of Resource Sharing Solutions at Ex Libris, and Mike Richins, Director of Product Management at Rapid.
Thank you both very much for your time. Sharona, let me start with you. Can you tell us a bit about yourself?
Sharona: Sure. I've worked in various product management positions for over 15 years, including Ex Libris. I just returned to Ex Libris to lead the resource sharing solutions unit. We are building an exciting new resource sharing product focused on user experience with the help of dedicated experts.
Mike: I first became enthralled with interlibrary loan as a college student. It seemed like magic, obtaining material from places I couldn't get to easily, and sometimes from halfway around the world. This led me to work in the Colorado State University Morgan Library as a student employee and, after graduation, to get a position in the ILL department, where I worked alongside many wonderful staff and students. I eventually became the Lending Supervisor and developed custom tools to augment the software we were using to manage ILL requests. Also during this time, RapidILL was becoming well-known in the academic library community. It was amazing to see how forward-thinking the RapidILL team was, and how they worked with our ILL department and so many other libraries to create innovative solutions. I assisted the RapidILL team on a couple of projects, including their new delivery platform called RapidX, and they asked me to join their team in 2010. This was a dream come true! I started with support and training and became the RapidILL team manager in 2016.

We believe in the future of RapidILL and we're going to make it even better. And as the RapidILL base continues to grow, it will be even more integral to our vision of developing resource sharing solutions for our customers.

Maybe you can give us a quick overview of the importance of resource sharing solutions to libraries around the world.
Mike: There have been significant changes in the resource sharing landscape since I became involved in interlibrary loan, but what has been consistent is that resource sharing is essential to the success of libraries. Patron expectations, technologies, library budgets and everything in between have all been in flux. In the end, it comes down to getting the patron what they need as fast as possible.
With the proliferation of electronic resources came many interesting challenges. While some excellent solutions have been found for some of these, others—such as digital books—continue to be stubbornly problematic for resource sharing. But there has never been a more interesting time to be involved in resource sharing, from open access initiatives to newer models such as Controlled Digital Lending, as well as consortial and library group-specific interlibrary loans.
Sharona: We increasingly see libraries worldwide trying to figure out how to improve their collection development processes, how to better utilize their existing resources—and all with shrinking budgets and personnel. Resource sharing, especially when it evolves to include document delivery and ebook lending, is a key component in facing this challenge.
When we began developing Alma, we debated whether or not to develop resource sharing for physical library collections as the market seemed to be shifting toward an electronic-first approach. Well, ten years later and the need has not faded at all. And now resource sharing has become even more complex, which means it is even more critical for libraries to be able to do it right.
Now that Ex Libris has initiated a new line of business dedicated specifically to resource sharing, what can you tell us about it?
 Sharona: In the past year or so, while discussing emerging needs with our customers around the world, we realized that the market needs a broader approach than what is offered today. Considering Ex Libris' existing assets, we believe that we can take the leap the market needs at this time. So we are now creating a solution that leverages our cloud, library management, and discovery expertise to create an end-to-end resource sharing solution.
We see the "whole picture" as enabling a holistic and collaborative collection development strategy, using analytics to decide when to acquire resources versus when to borrow them.
What are the challenges you are trying to address in the resource sharing market? And how does the RapidILL-Ex Libris integration address them?
 Sharona: There are two general areas in this domain that we are concentrating on. One—which has been a bit overlooked for the last few years—is the service that libraries provide their end users. Resource sharing, as part of the discovery service, has simply not kept up with the service expectations of modern end-users. Generation Z especially, but others as well, are digital natives and expect an experience of the kind they have with Amazon, social media platforms, and other online services. In most cases, searching for a resource in the library doesn't "cut it."
We are bringing the focus back to the end-user, making sure that our resource sharing service is streamlined and easy to understand, not overloaded with unnecessary complexities, and that it is consistent and coherent for all types of resources. As library tech revolutions go, this is going to be a really exciting one!
With RapidILL, we are making resource sharing a seamless, transparent process, providing patrons and librarians with borrowing options, terms of use, and follow-ups regarding their request progress.
The second area that requires attention is the shift by some libraries to an e-only or e-first acquisition model. We need to respond by taking the traditional interlibrary loan system and expanding it to include full resource sharing, combining and unifying returnable and non-returnable resource workflows. Handling licenses, agreements with vendors, and other complexities, as well as the traditional ILL processes, should be managed in a single platform.
Mike: In this context, let me also point out that we've had a growing number of libraries ask for RapidILL functionality in Alma's standard resource sharing workflows. Development is already underway, and the integration will be fantastic.
That's a good segue to explore the impact of Ex Libris incorporating RapidILL. Can you share some of your plans?
Sharona: First of all, let me say we are really excited to have RapidILL join Ex Libris. They have a well-deserved reputation in the market for their resource sharing solution, primarily because it was developed by and for real-world resource sharing libraries. They are experts in this domain, with experience and knowledge acquired from years of "boots on the ground."
So of course, RapidILL personnel will continue to develop and manage RapidILL as a team within Ex Libris, under Mike's leadership. Mike can elaborate on the impact of our relationship on RapidILL customers, but to put it simply: RapidILL is here to stay and expand.
We believe in the future of RapidILL and we're going to make it even better. And as the RapidILL base continues to grow, it will be even more integral to our vision of developing resource sharing solutions for our customers.
Mike: The RapidILL team is thrilled to be part of Ex Libris! We've been successfully working closely with Colorado State University Libraries, understanding their needs, and developing new tools and functionality that help them reach their potential. We feel that we'll be able to expand and deepen those successes through the new and exciting opportunities under the Ex Libris umbrella.
I would like to emphasize that RapidILL will continue to be developed and enhanced under Ex Libris. The RapidILL team will still operate out of Fort Collins, Colorado, and will manage the service based on the roadmap we've established, while also contributing to the new resource sharing directions Ex Libris is pursuing.
What Ex Libris provides to RapidILL is significant resources to further what we are already working on. We will be able to take advantage of Ex Libris' excellent development teams, expertise, and Higher-Ed Cloud Platform to augment our technologies and provide the scalability needed to expand the RapidILL services, both in scope and in global growth.
Sharona: In fact, one of the first plans we have is to expand RapidILL distribution beyond North America into the international market, where Ex Libris is more active.
Mike: Right. The potential to expand into new geographical areas and create a more diverse community is exciting. The obvious plus here is that it will increase the collective holdings of the RapidILL membership and add significant depth to potential fulfillment. Each new Rapid library has something unique to share and a growing user base means all libraries will benefit.
Finally, the RapidILL community is what makes RapidILL successful. Working with Ex Libris, we'll be able to extend our collaboration with libraries by participating in Ex Libris' customer engagement platforms, such as the Idea Exchange and the Developer Network. We will also align our industry-leading support with Ex Libris support to enhance our abilities to help libraries use our services effectively. RapidILL will continue to be enhanced based on the needs of our users, and we look forward to continuing our collaboration with the wonderful and varied RapidILL user base.
What about third-party solutions currently in use by some Rapid or Ex Libris customers, like ILLiad, Relay, etc.? How will the RapidILL acquisition impact them?
Mike: We have always supported integration with third-party systems, and RapidILL works successfully with most major resource sharing platforms, as we've continually developed our services to fit the changing landscape. RapidR (returnables), for example, was developed with this idea in mind. We were interested in how we could connect libraries using different ILSs and ILL management platforms, similar to how RapidX facilitates transmissions between the various delivery protocols libraries use. We are committed to continuing this approach and to expanding integrations with third-party solutions, which will certainly inform our collaboration with Ex Libris on the new resource sharing platform.
Sharona: We know that bringing greater value to our customers requires a truly open solution, and the resource sharing market is not different in that sense. There are many different broker systems and partners and being able to integrate with them is critical. That's why Ex Libris solutions are open and interoperable with third-party products, including over 200 APIs, integration interfaces, examples, documentation, and integration tools. We are committed to continue supporting the current integrations we have with third-party ILL and resource sharing solutions, both for Ex Libris and for Rapid products, and we'll continue to expand these integrations.
6월 20, 2019