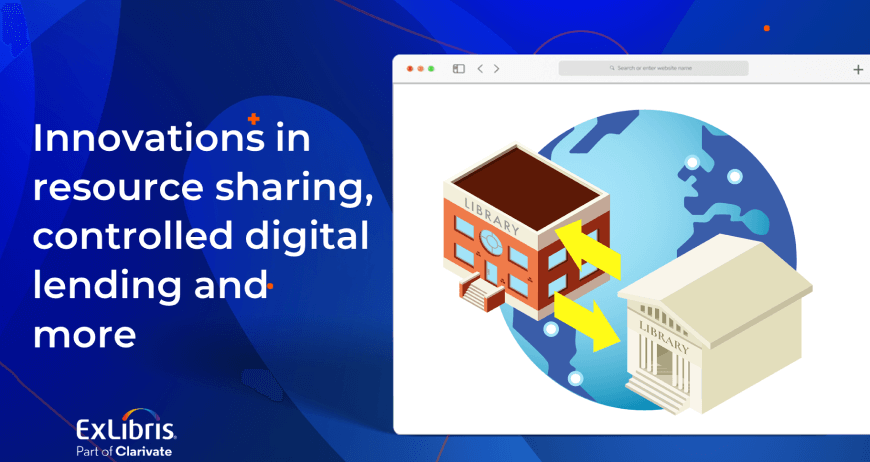 Innovations in resource sharing, controlled digital lending and more
This blog post was originally published by ProQuest.
ProQuest, Part of Clarivate, is taking the lead to create solutions that enable libraries to operate smoothly in the digital age.
In a recent Choice webinar, a librarian and two product experts spoke about today's innovative tools for needs like course resource management, resource sharing, controlled digital lending (CDL) – and went into depth about how libraries are using these tools to provide their users with better service.
Greg Argo, Associate Director for Access & Digital Services at the University of St. Thomas in St. Paul, Minnesota, kicked off the webinar by sharing how his library is benefitting from Ex Libris products like Alma library management system, Rapido, Leganto resource list management system and Primo library discovery service in variety of ways. According to Argo, these solutions help him collaborate across physical distances, increase delivery speed, collaborate with faculty on course-delivery processes, and embrace open systems.
"Let's say a student has $60 in their pocket," Argo said. "They'll either buy a textbook or a new pair of pants. If we're able to offer that text digitally – for example, through the Leganto reading list, which is free of charge to students – the student will still be able to engage with the content while also wearing their new pair of pants."
Following Argo's presentation, Mike Richins and Judith Fraenkel, both Directors of Product Management at ProQuest, spoke about recent Ex Libris innovations that are leading the way in resource sharing and CDL.
Richins stressed the growth of the RapidILL interlibrary loan software (ILL), which is nearing 550 community members worldwide and expanding quickly in Europe and Latin America. "Every new library, new area, new country gives you access new collections and helps us provide 24/7 coverage," he said. And that the turnaround time that's already very fast  "is getting even better."
Fraenkel shared that RapidILL is included in Rapido library resource sharing and has integration capabilities with nearly any system. "We have a shared directory currently supported by more than 2,000 institutions. All of these are potential institutions for resource sharing. Anyone already on Alma who wants to be a part of that directory can," she said.
And finally, Fraenkel brought up the trending topic of CDL, or making digital copies of physical materials available to patrons while staying within the bounds of copyright restrictions. In many cases, said Fraenkel, CDL was the only way libraries could continue providing patron services during the COVID-19 shutdown. "CDL lets libraries fulfill their vital function to society," she said.
Facilitating CDL is a huge priority for ProQuest, especially in light of the global pandemic and the new reality of increased remote learning, and ProQuest is working closely with its customer community to ensure that we continue to build CDL capabilities in Alma and other resources. The community-led Ex Libris CDL Advisory Group – of which Argo is a member – is designed to create a roadmap for implementing more CDL capabilities in Ex Libris integrated library system.
In the future, CDL, said Argo, "will make libraries better able to accommodate people with barriers to reading the printed page. It will allow us to circulate and consume materials in different ways."
Learn more, download the CDL white paper. and request a no-obligation meeting with an expert to discuss research-sharing solutions and how to save library staff time.