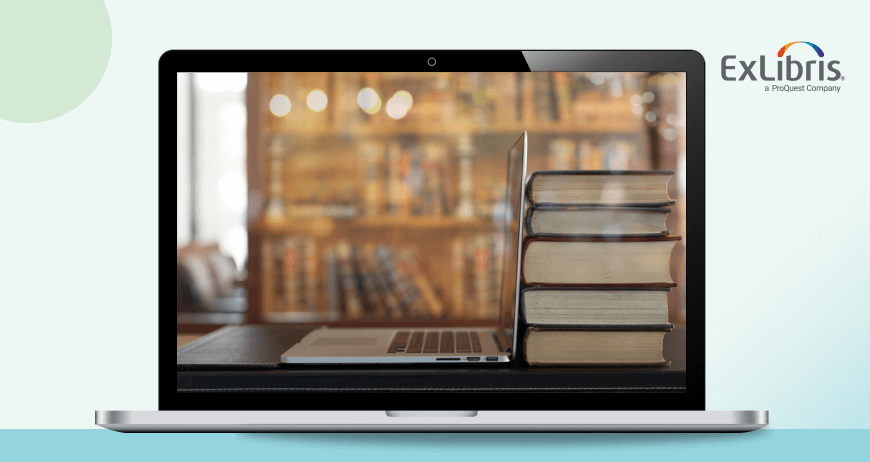 Budgets, DEI, remote learning: Charleston Conference panel tackles key issues surfaced by library survey
By Alison Roth
This blog post was originally published by ProQuest.
How does your academic library compare to your peer libraries across North America? What are the emerging trends in today's academic libraries and what are institutions doing to prepare for tomorrow?
These questions, and many more, were addressed in the third-annual "State of Academic Libraries" report, conducted by Library Journal and commissioned by Ex Libris, a ProQuest Company. Last week, a panel of library leaders discussed their own interpretations of the report's results in a session at the 2021 Charleston Conference.
The panel, which was conducted – fittingly – in a hybrid setting, included Elijah Scott, Executive Director of Library Services for the Florida Virtual Campus consortium; Kathleen Bauer, Director of Collections, Discovery and Access Services at Trinity College; and Kate McCready, Interim Associate University Librarian at the University of Minnesota Libraries. The discussion was moderated by Katy Aronoff, Senior Director of Solutions Architecture at Ex Libris/ProQuest.
Aronoff shared a few highlights from the global survey (read the full report here). Unsurprisingly, the most critical issues that emerged were funding – with 66 percent of the 1,800+ respondents saying they saw their budgets decreasing or remaining flat – as well as remote learning, resource-sharing and cataloging practices.
"We conducted our 2021 survey when many libraries were in the midst of change," said Aronoff. "We really wanted to understand the types of challenges that everyone was facing around the world, as well as those in certain regions, and what we'll face in the future."
Funding and Collection Development
Aronoff asked the panelists if they thought the pandemic represented a tipping point in the way libraries think about collection development – for instance, reclaiming physical space and shifting to a "just-in-time" philosophy rather than "just-in-case." The resounding answer? Yes.
"For a long time, we've had space issues, and I know we're not the only ones," said McCready of the University of Minnesota Libraries. "When we had this moment where we had to stop buying print entirely, it allowed us to reset. It allowed us to decide what was needed, what was important, and what didn't fit into our model."
Scott agreed. "We only have a limited amount of space, and we really needed to rethink [physical collections] as well," he said. "Previously, our annual print circulation was about 2.5 million. In 2020, when many of our member libraries were closed for the pandemic, print circulation was about 240,000 items. We have to maximize the power of every dollar we have. Patron-driven and demand-driven acquisition packages give us good options."
And Bauer said that at Trinity, a small liberal-arts college, the pandemic was also a tipping point not just for reducing print, but for the way the staff approaches collection development overall. Her library is looking at cutting out many of its existing subscriptions to make sure they focus on what users are accessing. "We need more to spend on ebooks and archives, both which get a huge amount of use," she said.
Diversity, Equity and Inclusion
While there's still a long way to go, the three panelists said that diversifying collections and hiring practices are top priorities for both the library and the institution. "This is challenging work; it's difficult work," Scott said. "But it's the most important work we can do to serve our users, and our own organizations."
McCready's library is located close to where George Floyd was killed in Minneapolis – and many of her staff members live even closer. "It's been a hard time in our city, but such an important time," she said. Actions the University of Minnesota Libraries are taking include looking at gaps in current collection development activities, adjusting their approval plans to acquire materials with more diverse perspectives, implementing more DEI staff education, and examining hiring practices to achieve more diverse candidate pools. Their communication office has also set up speaker series titled Amplifying Black Narratives, which is open to the public.
One way Trinity has approached DEI is by looking at small, discrete parts of its collection. In one case, the library underwent a grassroots effort to diversify its leisure reading collection by soliciting help from librarians and students. The collection's usage doubled, Bauer said, despite the fact that it was a small investment.  "[We] brought student groups in on the selection process, and they were thrilled to work on it," she said. "After the launch, when they'd have an event, they'd sometimes invite us and we'd bring a popup library."
Trinity's next grassroots project, Bauer said, is climate change.
Remote Learning and Learning Affordability
When the COVID crisis hit, said Bauer, the need to support remote students allowed Trinity to try some new tactics that made teaching, learning and research easier and more affordable across the board. "We switched to 'ebooks preferred.' We abolished fines. We beefed up some of our technology," she said. "We're better positioned to support remote users" even though, ultimately, Trinity students prefer to be on campus, she said.
And at Minnesota, implementing six evidence-based acquisition (EBA) plans increased the number of accessible titles by more than 3,000 percent – and saved the library $50,000. They also launched a new home delivery program for those who need physical materials but can't get to the library. "We're going to step back and look holistically at our total suite of services to determine a new path forward for how we're presenting those options to our affiliates," McCready said.
Affordability was another major topic of discussion. According to the Library Journal survey, academic libraries are leading 35 percent of learning affordability programs at their institutions – and 75 percent of libraries are involved in providing open educational resources (OERs) to their students. This was echoed by all the panelists. McCready's library is involved in many affordability initiatives, including helping faculty embed library materials in their classes and working with their campus bookstore to purchase multi-use ebook copies of assigned readings.
Scott said the Florida Virtual Campus has started a discussion group on OER best practices. "Our consortium tries try to be a central space where our schools can come together and share ideas," he said. "We created a community of practice called Open Florida for librarians, faculty and administrators. Our community addresses issues around affordability of resources, including textbooks. In our regular meetings, we discuss best practices, trends, and more. We encourage folks to join this conversation."
Access the full 2021 State of Academic Libraries Report from Library Journal and Ex Libris.