Ex Libris Esploro lets you move beyond the traditional research repository to maximize the impact of institutional research work. The Esploro research information hub collects multiple types of scholarly information, activities, and entities in one place and links everything. Esploro helps you break research information silos so that you can showcase research work and expertise, improve workflow efficiencies, and get a complete picture of research activities, with data you can trust.
One place for all research assets
Esploro's research information hub enables universities to collect, manage, and showcase all their faculty output and data within a single repository. It supports multiple types of scholarly information across a full range of academic disciplines, including pre-prints, publications, data sets, awarded grants, projects, activities, creative works, and media mentions.
Smart Data Harvesting
Esploro enables your institution to capture and add data using various methods, reducing the workload for both faculty and librarians:
Automated data harvesting from external sources including the Ex Libris central index, national repositories, and disciplinary repositories
Direct deposit of research output by researchers
Mediated deposit of work by research librarians
Automatic migration of data from your existing repository to Esploro
Automated population of metadata & easy enrichment
Legacy repositories often do not provide an efficient way to include comprehensive metadata or link to the data the work derives from. As a result, research output are less likely to be discovered, and other researchers cannot easily access and reuse research data.
Esploro's flexible data model supports a wide variety of research output, including publications, data sets, creative works, conference proceedings, dissertations, and creative works. Each type of scholarly asset has its own unique schema for capturing metadata, with data fields that are relevant to that asset type. Esploro automatically captures available metadata from external sources to ensure rich, high-quality metadata that improves discoverability and helps libraries improve consistency across research assets.
Analytics
Having a central place for collecting all output and data generated by the institution enables advanced metrics for measuring the impact of the university's research. Provosts, faculty deans, research office staff, and librarians can glean insights that go beyond how many papers scholars have published in academic journals and how often papers have been cited.
Universities can track work and measure impact at the individual researcher, faculty, and institutional level. They can also get an accurate picture of inter-disciplinary and inter-institutional collaboration. Esploro also integrates with third-party reporting systems and data visualization tools (such as Tableau) to enrich their data.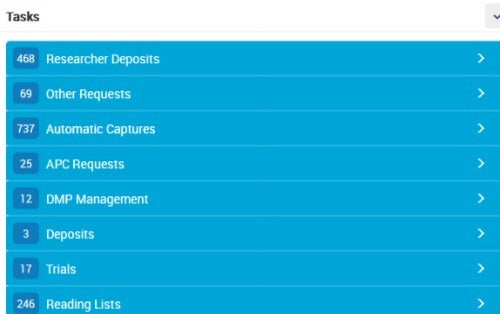 Integrated Workflows
Built on the Ex Libris Higher-Ed Cloud Platform, Esploro tightly integrates with Ex Libris solutions, third-party academic systems, online repositories, subject-based indexes, and researcher profile identification tools. Tight integration with the Ex Libris Alma library services platform allows seamless workflows such as Article Processing Charge (APC) requests, metadata management, and cross-product analytics.
Efficient Management
Esploro helps libraries improve productivity in order to support researchers at scale. Automated tools and integrated workflows reduce manual effort, enabling staff to:
Update research assets in bulk
Streamline approval of assets deposited or captured from external sources
Manage and process APC requests in one place
Manage the rights to access assets
Process copyright licensing
Automate import, export, and publishing tasks