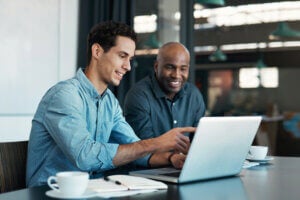 Our Global Professional Services team offers a wide range of paid services to help customers achieve strategic outcomes. Our team of experts works closely with each customer to provide tailored solutions to address their unique challenges. 
Have a peek at our exclusive Premium Services 
Let us handle your technical needs while you focus on core business objectives. We offer system administration and product configuration for selected library software applications. 
For library system implementations, our experts provide on-site engagement and consultation during critical project milestones. 
Overcome technical limitations with data format transformations, third-party integration, and more. Our experts augment your internal staff's knowledge and expertise. 
We offer custom training and workflow optimization to apply best practices and boost efficiency. 
Here is how we can assist you: 
Streamline your processes with detailed recommendations
Connect systems with different data formats

Get in-person support during library implementations

Gain access to training tailored to your needs

Consult with our experts for system administration

Work with us to gather requirements and develop solutions
If you don't see what you need, reach out to us for customized premium services. Contact your account manager to explore your options. Let us maximize your investment and create exceptional value together!