Following last week's successful IGeLU 2023 event, which featured over 100 sessions and 700 participants, community members and Ex Libris are excited to further showcase how they collaboratively work together. In the Library Journal webinar "Enhancing Library Efficiency Through Community-Driven Development," on October 3 at 11:00 a.m. EDT, attendees will hear from a panel of library employees on how community members are integral to the successful development and enhancement of effective library solutions.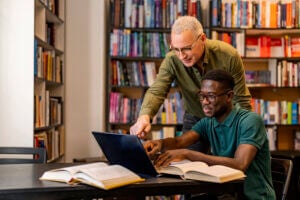 This in-depth conversation will provide attendees with a deeper understanding of how library employees can and do play a central and vital role in moving the Alma library management solution forward – to meet individual library needs and the evolving practices of a global community. The session will highlight a methodology that is centered around the voice of the customer and how it's been central to new Alma, library management system enhancements. Panelists will talk about their experiences and insights as participants in this process while highlighting how others can participate and impact Ex Libris, integrated library system software development as community members.
They'll detail how they and other community members collaborate with each other, and Ex Libris, by proposing ideas for development, voting on enhancements, taking part in user studies, serving as early adopters, providing feedback, sharing customizations and code, answering questions, exchanging best practices, and more. The discussion will center on how effective library solutions are not designed in a vacuum; instead, their development is informed by actual library use cases and staff immersed in daily activities related to them.
This event's panelists and moderator are:
Charlie Remy, Electronic Resources Librarian, Dartmouth College
Christina Hennessey, Systems Librarian, California State University, Northridge
Catherine Grove, Head of Metadata Services, Northwestern University
Davin Pate, Assistant Director for Scholarly Communications and Collections, University of Texas at Dallas
Allen Jones, Director – Digital Library and Technical Services, The New School Libraries and Archives
Noam Fass, Product Manager, Ex Libris, Part of Clarivate (moderator)
Can't make the live webinar? Register anyway and we'll send you the recording.