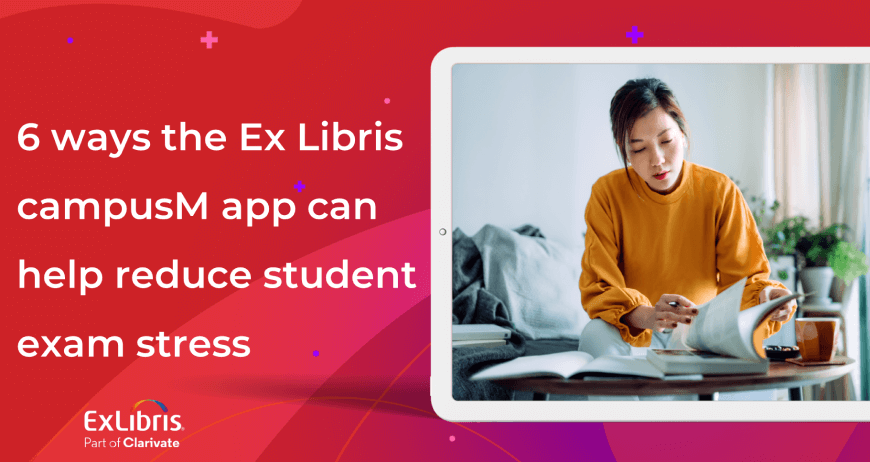 By Hadas Tayeb
Exam season is here, which means that some students are already feeling the stress or, in more extreme cases, experiencing test anxiety. In one 2015 survey of 2,000 U.S. college students, 64% reported worrying that exam stress was taking a toll on their academic performance. More recently during the pandemic, a 2020 study of U.S. college students found that 31% believed that exams and finals were the biggest stress factors they were facing.
Institutions can't hold the hand of every student taking exams. However, they can use the campusM app to offer students a virtual exam companion to help them prep for tests and keep calm in the weeks leading up to exams:
Signpost exam information
While there may be unknowns about the test material, there should be no unknowns about when and where an exam is taking place. Give students access to their exam timetable on their mobile device so that they know the time, duration and location of each exam. Having this information readily available allows students to make better decisions about dividing up their study time, planning their commute, or scheduling work shifts during exam periods. At the same time, last-minute classroom changes happen. Reduce last-minute stress by letting students know about new test locations in real-time using push notifications.
Integrate with your institution's Learning Management System
Learning Management Systems (LMS) connect students with their peers, their instructors, and with valuable learning resources. By integrating with the university's LMS, campusM can make it easier for students to access important course information from their mobile device at any time:
Discussion forums. LMS course discussion forums are beneficial throughout the year, allowing students and instructors to easily share resources in a single place. Using these forums to crowdsource questions and answers before an exam can help students feel like they are part of a community, with help just a few taps away.
Grade Posting. The internet is full of advice about how to manage the stress of waiting for exam results. One step universities and colleges can take to alleviate this stress is to integrate their campus app with their LMS so grades are available on students' phones as soon as they are published. Institutions can additionally configure push notifications to alert students of new grades entered into the LMS, enabling students to instantly access their grades even if they are not in front of their computer. 
Make it easy for students to book study spaces
During the pandemic, it became clear that students do not always have access to optimal study conditions at home. Allowing students to book campus study spaces from their smartphones can encourage busy students to study on the go. During a recent qualitative interview with students at one of our U.S. university partners, campusM UX Lead Leah Friedberg spoke with students to learn more about their app usage. One student noted that "Booking a study space on my phone is so much easier than having to log onto a computer."
Integrate with students' reading lists
One thing that students don't need as they're cramming for exams is a scramble to locate the reading materials they were assigned at the beginning of the year. By integrating with assigned reading lists, campusM can help students quickly locate the resources they need leading up to their exams. As another student mentioned during our UX interview session, "The [app] reading links are really helpful … Sometimes when I'm on [our LMS] I don't even notice those tabs. Having those links on the app – it immediately takes me to the reading, I don't have to go looking for it."
Teaching staff are also seeing the benefits of giving students a shortcut to their reading lists. A professor of Social Work using Leganto, the Ex Libris reading list management solution, said: "Each additional click or each additional link that students have to follow through to get to something, I know I'm losing a few potential readers."
Provide prepopulated exam to-do lists.
Students facing multiple exams and final assignments can benefit from structured study guidance. Giving students a checklist for each exam can make it easier for them to break their study time into manageable chunks and review the necessary material.
Offer wellbeing resources.
Some students know how to navigate exam stress on their own; others need more help. Offering wellbeing resources like guided meditation videos, tips like this on how to stay calm, or the number for a wellbeing hotline can help students get the support they need to stay on track.
campusM is a powerful campus app that helps universities improve student engagement daily. For more information about how campus apps are reshaping the Student Experience, download our whitepaper: UX for the Digital Campus: How to Design for Meaningful Student Experiences. To download, click here.