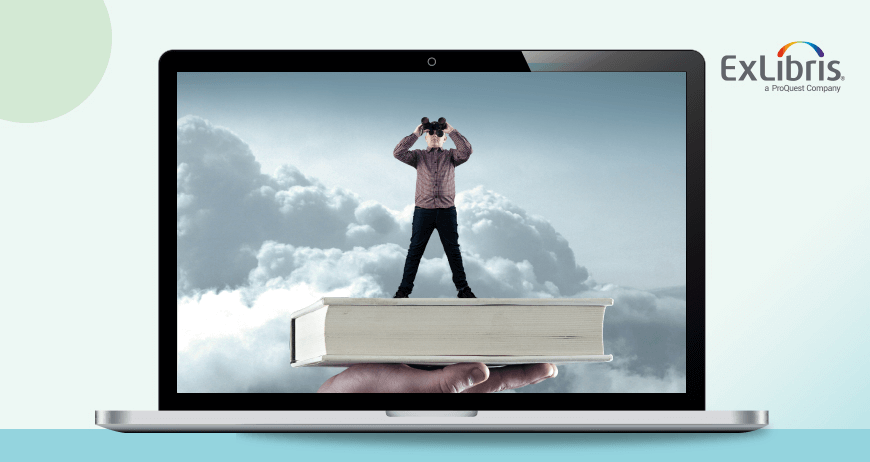 Asaf Kline, VP Product Management, Ex Libris
In our continuing review of the challenges small and medium-sized libraries are dealing with, we have so far considered how libraries might overcome the limitations of a small staff. This time, we will look at two other factors that are at the heart of an academic library's mission: collections and management.
Collections are changing
Libraries are defined as small or medium by, among other parameters, the size and breadth of their collections. Many cannot offer holdings and services that parallel those found in larger libraries.
However, a shift in the philosophy of collection development has been underway in many libraries, with a growing focus on access, rather than ownership. Another rapidly accelerating change in the nature of library collections is a move to providing more digital resources and e-resources.
As a result of these trends, smaller libraries are becoming more dependent on collaboration with other institutions and digital resource vendors. This has increased pressure for more flexible management systems among smaller libraries.
Systems need to catch up
Despite the sea changes underway in the world of libraries, small and medium academic libraries often use relatively outdated library management systems or a patchwork of poorly integrated systems. This situation may be the result of inertia or an inability to justify major upgrade expenditures, even though the library is growing and technology is changing.
In heavily manual managerial ecosystems at smaller libraries, ad hoc fixes and homemade workarounds accrued over the years can lead to the problem of continuity. That is, the library may find itself dependent on the expertise and experience of one or two people to ensure functionality and coordination. When those people leave the institution, the tribal knowledge leaves with them.
Claire Brocklehurst, Systems Support Librarian at the Ara Institute of Canterbury in New Zealand, said that such a situation left librarians not even knowing what they didn't know. All they could do at the time was to say, "Let's just hope it keeps working."
Covid-19 and what's next
Library management systems and processes designed primarily for handling print resources are becoming anachronistic. This process accelerated in 2020, with the advent of the Covid-19 pandemic. Health restrictions forced a rapid shift to more remote services and electronic resources, challenging the way things have traditionally been done.
While there had been growing use of electronic resources and expanded digital collections before the pandemic hit, it increased dramatically and nearly universally afterward. Libraries also had to introduce or extend options for remote library management and other work-from-home scenarios. These developments are likely to become more ingrained in library culture well beyond the Covid-19 crisis, meaning that library systems need to be up to the task.
A better system for any size library
The right system can improve collections, help librarians provide better service, and help students and faculty achieve their educational goals. For the small or medium-sized library, the innovative and market-leading Alma library services platform is the solution.
With reliable cloud-based technology, Alma's tools, services and systems are accessible from any computer or mobile device, anywhere in the world, with no need for locally hosted software or servers. In contrast to on-premise solutions, system adaptations, maintenance and upgrades are handled remotely by Alma and do not require local IT support. For librarians, this means more time delivering services to the community, rather than managing the management system. All libraries, from the smallest to the largest, benefit from the same platform capabilities and seamless service.
In addition to being a cloud-native platform, Alma provides a unified management system for print, electronic and digital resources. The infrastructure, workflows and support necessary for all the library's collections are centralized and standardized for access via a single suite.
Along with system consolidation, Alma incorporates extensive automation that streamlines management and resource-sharing processes. It eliminates many of the most routine, time-consuming manual tasks and replaces them with end-to-end workflows that one person can complete. Centralization and automation combine to create a much more efficient system, freeing overworked librarians at smaller institutions to refocus on their services and collections.
For collection development, librarians are more dependent now than ever before on collaboration, remote services and electronic resources. To take full advantage of the options available, libraries need to be able to integrate with management and interlibrary loan systems used by their colleague institutions or consortia. Alma gives the library the freedom to easily interface with internal institutional networks, external systems, and resource vendors, which means effectively expanding a smaller collection to a massive one whenever needed.
Alma users also share a common community of hundreds of libraries of various sizes. Librarians, institutions and Ex Libris all work together, pool their efforts, and help each other reach their goals. Smaller libraries, just as much as their larger counterparts, are integral to the Ex Libris community, sharing and contributing their experiences, knowledge, expertise and best practices.
For the small or medium-size institution, Alma ensures the library is agile, future-ready and scalable. The platform's capabilities allow the library to easily, effectively and affordably shift to more e-resources and digital collections, expand process automations, add new services, and more. There are no large incremental costs for such changes, as the infrastructure and technology remains scalable, remotely supported and stable.
As Natalie Wadley, Library Systems Coordinator at Stockton University in New Jersey, very succinctly put it: "Alma gives small libraries the power of a large system."
While the advantages we've seen so far address several key challenges facing small and medium libraries, we have yet to touch the third rail of modern academia: shrinking budgets and costly programs. Stay tuned, as we will be tackling that issue in our next installment of this series.
Download our Ebook to find out why Alma is the best fit for your library.
This blog post is part of a series exploring the typical challenges of small and medium academic libraries today – and how they can tackle them. To read and explore more blog posts in the series, please make sure you visit:
Part 1: The Big Challenges of Small Libraries
Part 2: A Small Library Staff Can Do Much More Than You Think