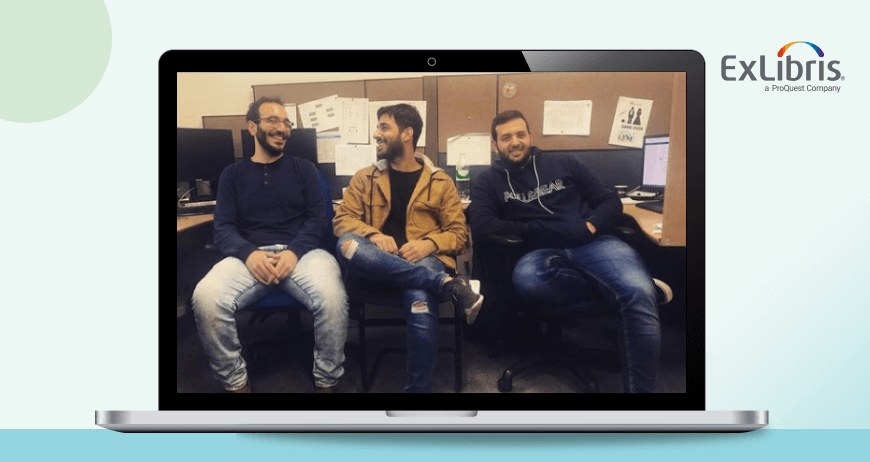 We're happy to introduce the first of a new series of blogs about Ex Libris employees. We'll be posting these blogs by various Ex Libris employees, introducing themselves, allowing us to get a peep into their lives, as well as describing their position and role in the company. We hope you'll enjoy them.
Meet Asaf Joseph
Hi, my name is Asaf Joseph. I am 28. I joined Ex Libris about 16 months ago as a developer for Alma.
I have a BSc. in Software Engineering and I am now studying for my MSc. in Computer Science.
Among other hobbies, I really like going to the movies. It has been a challenge this past year with all the movie theaters closed. There's nothing like sitting in a dark theater with a big box of popcorn and seeing a movie start rolling.
I love playing football. I'm in the Ex Libris football team. A number of companies have such teams, and normally we would play together in a football league. Of course, in 2020 we weren't able to meet because of COVID-19.
In Israel vaccinations are open to everyone over the age of 16. I've already received my 1st shot and am looking forward to getting my 2nd shot. This will allow me to get my green passport and with this passport go back to the gym.
And lastly – about my personal life – I enjoy cooking – everybody loves my Margarita pizza!
As I mentioned, I am a developer in the Resource Management team, developing for Alma, specifically in the physical resources area. Recently I was the first Alma developer to use a new infrastructure that was developed with new technology for the Higher-Ed platform. Utilizing this new infrastructure, we're developing and implementing a search option for searching physical holdings, and in general a new and faster search experience. A faster search experience is one aspect of our ongoing goal of improving the customer experience for our users. I especially enjoy hearing about positive feedback about new features or developments that we often get from our user community.
In addition, I'm involved in a very exciting project – the Coda project.
Coda is a non-profit organization that connects social organizations with hi-tech people, together with students, or early graduates, with the aim of developing technological solutions to social problems.  Students get practical experience in development and teamwork, while hi-tech companies give their employees the opportunity for professional-managerial development along with a sense of meaning that is connected to their professional skills. Currently I am working on a program for people with chronic illnesses.
That's me in the middle!
I hope 2021 will prove to be the year when we are able to go back to a new normal, meeting with friends, enjoying a cup of coffee together, and especially going back to a classroom on campus.
This blog post is part of our employee blog series. Visit our next post and get a chance to meet Yoel Kortick.