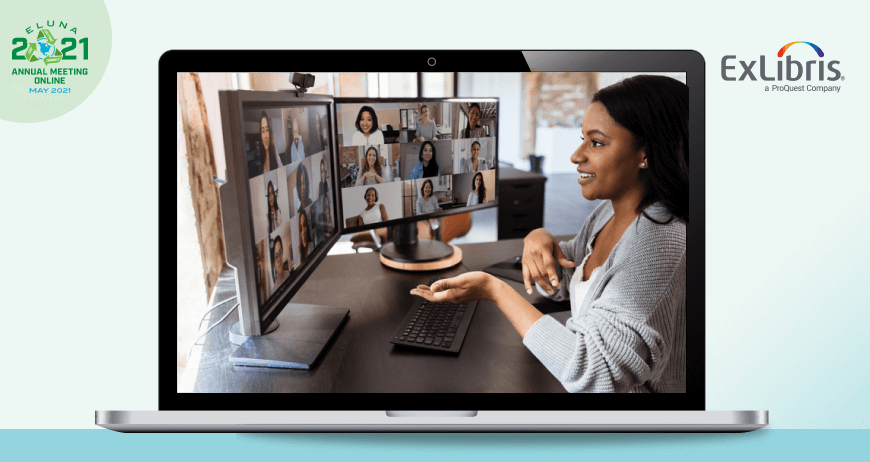 Ex Libris Users of North America (ELUNA) was formed in 2005, replacing the previous Ex Libris user groups NAAUG and SMUG. Going forward from this date, annual in-person meetings were held in various locations across North America.
In 2020, for the first time, due to COVID-19, ELUNA had to change the in-person meeting to an online event.
Once again, The ELUNA Steering Committee and Ex Libris made the decision to proactively move the 2021 in-person annual events scheduled for May in Atlanta, Georgia to virtual meetings due to continued COVID-19 safety concerns and ongoing travel restrictions. All scheduled 2021 in person events will be held online at no cost.
In addition, The Ex Libris Knowledge Delivery team will offer a special bi-weekly webinar series covering the top 10 requested Knowledge Days sessions. The Ex Libris Knowledge Days trainings will be available to all customers via live webinars scheduled across 10 days in June 2021 at no cost. All sessions will be recorded and available to view on-demand to registrants.
"This will be my first ELUNA meeting as President and CEO of Ex Libris" said Oded Scharfstein. "Ex Libris is proud to be the flagship sponsor of the ELUNA 2021 Annual Meeting Online. I'm looking forward to reconnecting with the ELUNA community."
This year, the theme for the ELUNA Annual Meeting Online is "Code, Collection and Community". Ex Libris, the Communities of Practice – ELUNA and IGeLU Steering Committees, and the Working Groups have a strong history of working together. This year, their work was raised to another level, not just through enhancement voting and feature development, but in discussions on diversity and representation issues in search, interface customization (Primo/Alma), improving publisher relations, developing a new shared software agreement, and improving the customer support experience.
"Not all conversations are easy, some can even be difficult, especially when not in a face to face setting. But somehow, these people, vendors and volunteers alike, built a productive relationship where both sides could ask the question, "What do you think about…" and things were set in motion that added benefit to the worldwide user community. Join us in May to find out more about this year's work at the ELUNA Annual Meeting," said Allen Jones, ELUNA Steering Committee Chair and Director of Digital Library and Technical Services at The New School.
Registration is open for the ELUNA 2021 Annual Meeting Online! This no-fee series of Annual Meeting sessions includes key updates from the ELUNA Steering Committee, ELUNA Working Groups, and Ex Libris Management. Speaker and session information is available on the ELUNA website. All events will be recorded and available to view on-demand for those who register.