The creation and management of metadata is an extremely complex and critical component in optimizing search accuracy and accessibility for full-text content in a library catalog.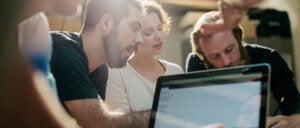 To provide deeper insight and understanding into the importance of collaboration in the metadata process, Ex Libris was joined by representatives from content publishing partners Oxford University Press (OUP) and SAGE for the highly-attended webinar Metadata at its Origin:Publishers Talk About Metadata
The session kicked off with an overview from Ex Libris Content Product Manager Tamar Ganor who led this session as part of her regular quarterly Content updates. Tamar provided an overview of the necessary interoperability between institutions, content providers and Ex Libris to ensure accuracy and usability of metadata for optimal discovery of resources.
This collaborative effort, she noted, keeps all three sides aligned when it comes to addressing specific challenges, including:
Keeping up with new products and content
Helping end-users better understand Open Access rights
Managing decline in resources, such as staffing changes
Mobility of content between providers
Leveraging the latest technological innovations
Following her presentation, Julie Mielish, Discovery Manager for Oxford University Press (OUP) and Manisha Sanghavi, Senior Discovery Operations Manager for SAGE Publishing, each shared the complex, labor intensive series of steps they each follow to create MARC, XML, and KBART files with supplemental data for delivery to partners like Ex Libris. Those partners, they explained, can then use it to make full-text content discoverable in catalogs via solutions like the Alma unified Library Management System (LMS).
Both Julie and Manisha also discussed how their backgrounds as librarians help them understand the needs and challenges of their end-users, from students and researchers to librarians. In her closing remarks, Tamar reminded webinar attendees about how "reporting metadata issues helps improve metadata for the entire community," and expressed gratitude for feedback from end-user experience.
The session concluded with a Q&A segment where one participant shared:
"It's very clear that our vendors and Ex Libris are doing a lot of work behind the scenes to make our jobs as library workers easier, and that's much appreciated."
Watch the full webinar recording for more information on the creation and management of metadata, or access the Ex Libris Knowledge Center to learn about metadata management in Alma.