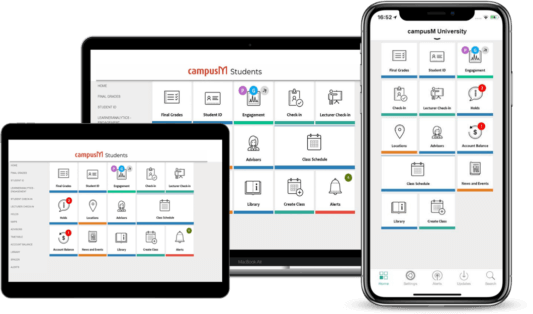 An app for any device & a web portal that works everywhere at anytime
Students use multiple devices throughout their day, depending on whatever activity they are engaged in at the time. Most look at their smartphones as soon as they wake up, whether to check their timetable for the day or see what time the next bus is. Once they are on campus, the same students may use a laptop or PC to complete their course assignments or view learning materials. Independent research has shown that students prefer to use mobile devices for transactional activities but would still rather use a laptop for more complex and involved tasks.
To learn more, watch the video now.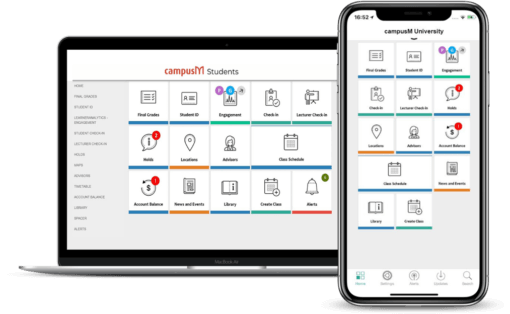 Campus mobile app & web portal, the best of both worlds
With campusM, you don't need to choose whether to give your users a native campus mobile app or a responsive web experience. Instead, you can deliver a seamless transition across any device, letting users access the services and information they need in whatever way is the most convenient and useful for them and their lives.
Your institution can give your students a portal and app experience as unique as they are on whichever device they are using.  Thus, a first-year student will access his timetable quickly on his phone while a 5-years will check its final grades on the web portal. A campus mobile app and a web portal in one package also allow you to improve students engagement and better analyse usage across all digital channels.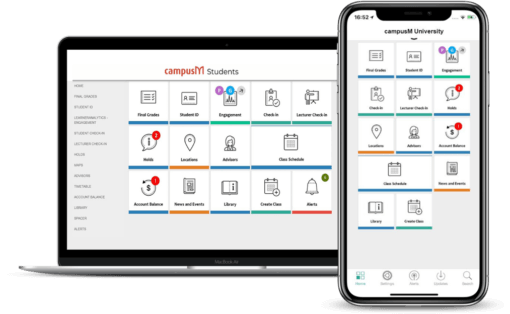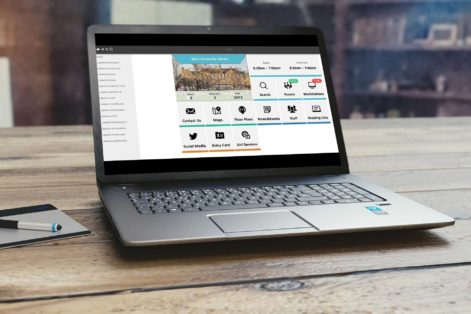 Responsive web portal
The responsive campusM web portal offers a full desktop experience, delivering the perfect solution to institutions aiming to give their users the best possible student web portal. With a full-page experience, static side menu and breadcrumbs the campusM students web portal allows your students to enjoy a real web experience. Providing a web portal experience similar to your native campus mobile app will ensure that you are delivering consistent messages and providing a familiar user experience to your students, increasing their satisfaction with services overall.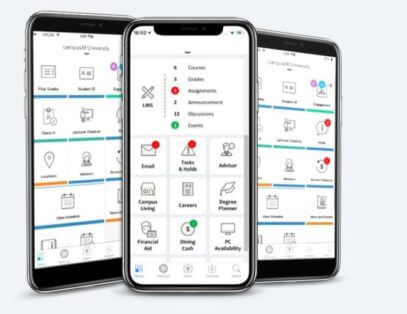 Fully native campus mobile app
The campusM iOS and Android mobile apps make full use of native functionalities such as GPS, microphones, biometrics, push notifications, and cameras. Using home screen personalization, students and other users can customize which services will be presented on their limited app "real-estate" and put services in their preferred order to ensure that the most relevant features, such as class schedules, assignments, and grades, are at the top of their app.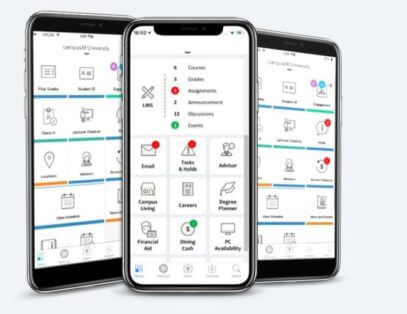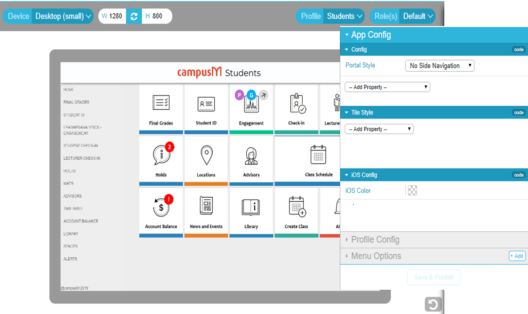 Simple administration with a unique web-based management interface
In many institutions, IT departments are responsible for setting up, managing and maintaining the portal desktop platform. This can lead to delays in communication and a confusing situation for both staff and students. The campusM administration interface (the App Manager) overcomes this management issue.
With a simple and easy to use Web-based combined with devolved management functionality, content and service owners can take ownership and easily create, edit and publish changes instantly across all channels without the need to send updates to app stores for approval. Administrators can customize the end-user experience at every level, from minor edits and content changes to an overhaul of the entire deployment.  campusM publishes updates to mobile apps and responsive web portal instances in a single operation.